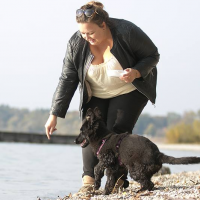 Don Both
Contemporary Romance, New Adult Romance, Romance, Erotic Romance, Dark Romance & Erotica, Fantasy
Don Both, aka Bethy Zimmermann is 30 years old. Her parents are from Prague in the Czech Republic. At the age of 12, her class held a short story contest where she discovered her true great love -- writing. During her schooling and vocational training as a nanny, she wrote throughout the day and drew comics at the same time. At first, she created animal stories, family stories, fantasy stories ... As she grew older, her novels and male protagonists became hotter and hotter and she discovered her other great love: eroticism.
In 2010, she took the big step and went public with her novels. Through her cheeky, provocative, and extraordinary writing style, she quickly gained an enthusiastic fan base. At the time, the young woman won several competitions and prizes -- for example, "Best Fanfiction Author" and "Best Erotic Story".
At the time, her husband's health was declining and the company where she worked as a baker's assistant went bankrupt. Practically overnight, the small family became Hartz 4 recipients (Welfare, unemployment program). In dire straits, the desperate mother discovered Amazon Self-publishing and with their last money published "The unholy Book of Tristan Wrangler". It was a smash hit. What every author dreams about. It has become a bestseller that has since grown into one of the most widely read eBooks on the German market.
Since then, she and her two best friends founded A.P.P. Verlag (publisher), which includes more than 30 successful authors. In the meantime, she became acquainted with the media. Several newspapers wrote articles and she was on television.
Privately, the curvy dynamic woman is committed to animal welfare and the fight against body shaming, while trying every day to do something good. She loves yoga and resides with her cats, her super sweet German Shepherd dog, husband, and son in a small Swiss town.
Knowledge is the eye of desire and can become the pilot of the soul.
Will Durant